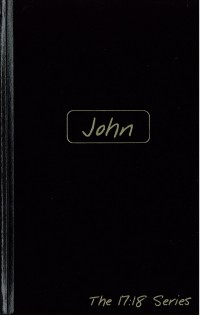 What is a Journible?

A Journible is a cross between a Bible and a journal. Hence the name - Journible. It is basically a Bible study tool that aids you in copying whole books of the Bible.
How does it work? Let's say you buy the Journible for the book of John. It is a basic black journal with "John, The 17:18 Series" written on the front. The paper is nice and thick and the binding doesn't feel cheap. When you open the book you will see lined pages with chapter and verses on the right hand side. The verse numbers are spaced based on the length of each verse. That is where you copy the book of John. On the left side you can write notes on the text. There are some lightly printed promts to help you with that. (You can download sample pages here.)
I started using my Journible this week. It contains Galatians, Ephesians, Philippians, Colossians, 1st & 2nd Thessalonians. Since I have been memorizing the books of Philippians I started my "copywork" there even though it is in the middle of the book. I've found it to be a good excerise in slowing down and really thinking about the words. Even words that I've repeated dozens of times while memorizing.
Click here to read my friend Katrina's post on Journibles.
The following Journibles are currently available:
Proverbs

Romans

John

Luke

Psalms (2 books)

Galatians, Ephesians, Philippians, Colossians, 1st & 2nd Thessalonians

1st & 2nd Timothy, Titus, Philemon, Hebrews

James, 1st & 2nd Peter, 1st, 2nd, & 3rd John, Jude
Visit their website here for more information.