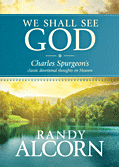 In We Shall See God, Randy Alcorn scoured the sermons of Charles Spurgeon's and compiled his thoughts on Heaven in a devotional format. (Heaven, which according to Randy Alcorn should be capitalized because it is a real place and a proper noun. :-)
From the publisher:
No author in history has more material in print than Charles Spurgeon. During his lifetime, Spurgeon and his writings affected the world far and wide. Today, nearly 120 years after his death, countless people continue to have a passion for this London preacher, and more and more discover him every day. Some of Spurgeon's most powerful sermons were those that he preached on the topic of Heaven. Up until now, however, very few of these sermons have been accessible to a mass audience. In what is sure to become an instant classic, best-selling author Randy Alcorn has compiled the most profound spiritual insights on the topic of eternity from these sermons and arranged them into an easily-accessible, highly inspirational devotional format complete with his own comments and devotional thoughts. Whether you are familiar with the works of Charles Spurgeon or not, you are in for a treat, as Alcorn invites you to sit at the feet of the Prince of Preachers and discover timeless pearls of wisdom from one of the greatest theological minds of all time.
Format:
The book is divided into fifty day. Each day begins with details on the sermon from which the day's reading comes, the circumstances surrounding the sermon or the life of Spurgeon at the time and a corresponding verse. Following that is the sermon excerpt and then comments from Randy Alcorn. Each day varies in length but averages 4 pages.
My thoughts:
At first, I was hesitant to "like" the fact that Alcorn was making comments on Spurgeon. In fact, I had a prejudice against these comments. After all, in his introduction he said "I resisted this [the publisher's desire for him to add additional content], primarily because I thought it presumptuous to coauthor a book with a man who not only towers over me but could not be reached for permission!" However, as I started reading the devotional I realized the great value in his comments. There were times where Spurgeon's sermon excerpt swirled in my head never landing in that place of understanding. For this reason, I was grateful for the thoughtful and clarifying commentary that Alcorn added.
I like this book. I highly recommend it.
I received this book free from Tyndale in exchange for an honest review.