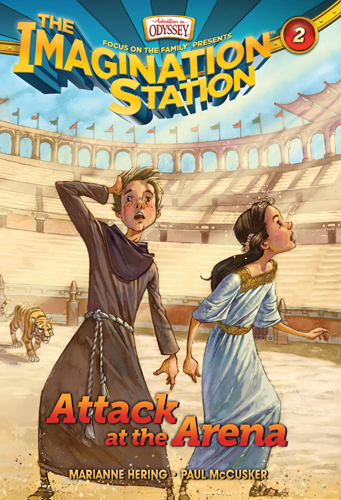 Attack at the Arena is Book 2 in The Imagination Station series from Focus on the Family. Cousins Patrick and Beth, with the help of Mr. Whittaker's mysterious invention, are whisked away on time a travel adventure that takes them to ancient Rome. The search for a silver cup, the bird loving Emperor Honorius, a wise monk and the Roman arena set the stage for this story.
This book was a surprising gem. It skillfully blends adventure and history at a level that can be easily read by a young child. (The Flesch-Kincaid grade level is 2.3.) It is reminiscent of the Magic Tree House series in the writing style and basic format. However, where the Magic Tree House comes from an evolutionary and pluralistic worldview, The Imagination Station series is distinctively Christian.
We are currently studying ancient Rome in our homeschool and this is a perfect addition! I assigned two chapters today and they read the whole book in one sitting.
There is currently one other book available in this series (Voyage with the Vikings) and two more that are yet to be released (Revenge of the Red Night and Peril in the Palace).
I received this book free from the publisher in exchange for an honest review. But, rest assured the opinions are all mine!